Champion has developed a solid reputation for providing the highest quality in compressor systems, parts and service. With over 85 years experience in designing and manufacturing air compressor systems Champion knows and understands the application of our products in many different operating environments.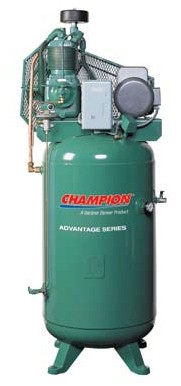 With over 1,100 approved Distributors, Champion is well represented to sell or service your air compressor system.
Discover Champion and what we have to offer…Champion Air Compressors are the correct choice!
Reciprocating Compressors
Lubricated Compressors
R-Series 1-35 hp Splash Lubricated Industrial Compressors Available in Single and Two-Stage.
Advantage Series 5-25 hp Splash Lubricated R Series Compressors Designed and Assembled
with the Most Popular Options
PL-Series 3-35 hp Pressure Lubricated Air Compressors Capable of Pressures up to 250 psi
Centurion II Series 5-15 hp 100% Cast Iron Industrial Two-Stage Air Compressors
Value Plus 3-15 hp 100% Cast Iron Single and Two-Stage Air Compressor, Simple Design
Command Air 1/2-3 hp Single and Two-Stage Compressors Used with Sprinkler Systems
A-Series 7.5-40 hp Industrial Air Compressor Pumps and Boosters